View all articles
The Indonesian Government Security Printing and Minting Corporation (Perum Peruri) signed two Memoranda of Understanding (MOUs) in Washington DC at the end of October in the presence of the President of Indonesia, Joko Widodo, on his first visit to the US since his inauguration last year. One was with Crane Currency, and the other with Jarden Zinc Products.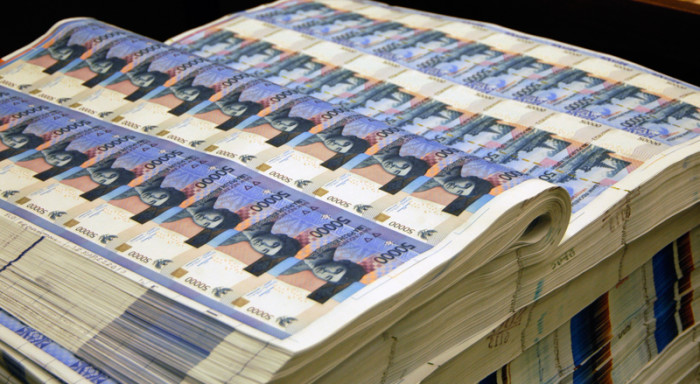 The agreement with Crane Currency, a global producer of currency products, is to explore a joint venture for the manufacture of banknote security features in support of Perum Peruri's intention to set up a banknote paper mill in Karawang, its main production facility in West Java.
The security feature facility will be located on these premises, which house Perum Peruri's 11 banknote lines. Crane will be providing the materials required to enable the final production of security features – specifically its micro-optics threads Motion and Rapid.
Indonesia currently imports most of its banknote paper, approximately 8,500 tonnes annually for around 9.5 billion banknotes, with only a small amount for low denominations being supplied from within the country (as neither of its two mills can meet the current technical specifications).
The tenders are conducted by Bank Indonesia and the paper supplied to Perum Peruri. By law, Perum Peruri prints all of Indonesia's banknotes and should it install a new paper mill, could also become the major paper supplier. It is understood, however, that such developments are very much still in the planning stage.
The agreement initiating the security features partnership was signed by Mr Prasetio, CEO of Perum Peruri and Stephen DeFalco, CEO of Crane, who commented that 'it is a privilege to partner with Perum Peruri to expand our global capabilities.'
Under the second MOU, Perum Peruri intends to begin production of high security coin blanks developed by Jarden Zinc Products.
Preliminary talks between the two companies took place at the Technical Meeting of Mints in ASEAN (TEMAN) in Jakarta in June, leading to an NDA to discuss further business opportunities. This led to the subsequent MOU, under which a coinage production facility will
be established in Indonesia for domestic consumption, as well as sales to other countries in Asia. Jarden Zinc will provide technology and technical support, as well as sales and marketing assistance. Scaled operations could begin as early as 2016, with full operations in place by 2018.
Founded in 1971, Perum Peruri was formed by a merger of the state mint and state printer and is the sole producer of Indonesia's notes and coins. It also  produces the Indonesian passport, tax stamps and other secure documents.
It has sales of Rs 2,312 billion in 2014, and net profit of Rs 334 billion. Around 65% of its turnover is from Indonesian banknotes.
The moves towards indigenous paper and thread production (it already produces its own inks through a JV with SICPA) are part of a plan not only to control its own materials, but to serve s a regional hub for banknote and coin production for neighbouring countries in Asia, as well as Africa.
The company will be providing further details of its plans and capabilities at the forthcoming High Security Printing™ conference in Jakarta, which will be formally opened by the Governor of Bank Indonesia, and for which Perum Peruri is the honorary sponsor. A post-conference tour of the Karawang complex is also being offered to delegates.